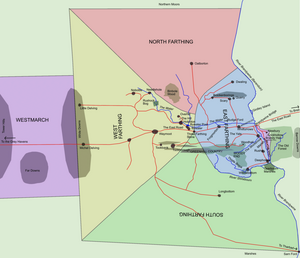 Woody End was a forest in the Eastfarthing of the Shire.
It was located in the farthest southeastern tip of Green-hill country. It is about eight miles in diameter.[1]
Woody End was where, in The Fellowship of the Ring, Frodo, Sam, and Pippin meet a group of Elves led by Gildor.[2] During the Scouring of the Shire, much smoke spewed out of Woody End because the Ruffians were burning part of it.
References
Edit
↑ The Atlas of Middle-earth pg. 71
Ad blocker interference detected!
Wikia is a free-to-use site that makes money from advertising. We have a modified experience for viewers using ad blockers

Wikia is not accessible if you've made further modifications. Remove the custom ad blocker rule(s) and the page will load as expected.