Voronwë
Talk

0
4,991pages on
this wiki
{{{image}}}
{{{caption}}}
Other names
Voronwë Aranwion
Year ascended to the throne
For other namesakes see: Mardil Voronwë, the first Ruling Steward of Gondor.
Voronwë Aranwion was a Ñoldorin Elf mariner from Gondolin who was one of a crew of several ships sent by Turgon to solicit aid from the Valar. The Doom of Mandos, however, made any such attempt futile, and Voronwë was the only one to survive.
Biography
Edit
Voronwë was relatively young according to the measure of the elves, having been born in Middle-earth (and specifically in Nevrast) instead of Valinor. His father was Aranwë, a Ñoldo, but his mother was of the Sindarin Elves of the Falas, and kinswoman of Círdan.
He called himself "of the House of Fingolfin", which in this case means a follower of that house, rather than a relationship of blood.
He was saved by Ulmo with the express purpose of leading Tuor to Gondolin, which he did. There is no further mention of him in the canon works, which raises a question whether he survived the Fall of Gondolin. Older accounts say that he did, and sailed to the West with Tuor or with his son Eärendil.[1][2]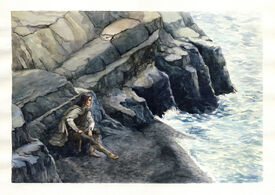 Etymology
Edit
His name is Quenya in origin. The Sindarin form was Bronweg. Voronwë means steadfast and his surname Aranwion means Son of Aranwë. The name Voronwë also appears as an epessë (honourary title) of various other characters, for example Mardil Voronwë.[3]
References
Edit
External link
Edit