Valley
Talk

0
4,608pages on
this wiki
A valley or dale is a depression with predominant extent in one direction. A very deep river valley may be called a canyon or gorge. The terms U-shaped and V-shaped are descriptive terms to characterize the form of valleys. Many valleys were described in The Lord of the Rings.
Helm's Deep
was a large valley in the north-western
Ered Nimrais
(
White Mountains
).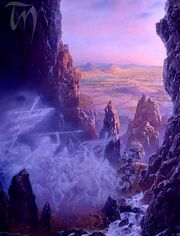 The people of Beorn once inhabited the North of the Anduin valley between the Misty Mountains and Mirkwood.
There's also Blackroot Vale on the southern side of the White Mountains in Gondor in which there's a door that lead to the Paths of the Dead.
Imloth Melui in Lossarnach, Gondor. It's known for its flowers, more particularly roses and so was visited by many people from Minas Tirith tha travelled to see them.
Then there is also the famous Morgul Vale on the border of Mordor in which were located Minas Morgul. Many other valleys were referred by Tolkien.