Vána
Talk

0
5,215pages on
this wiki
{{{image}}}
{{{caption}}}
Other names
The Ever-young
Date of birth
Before the creation of
Arda
Year ascended to the throne
Weapon
Power of the Valar
Vána (Quenya; IPA: [ˈvaːna]) was the name of a Valier also called the Ever-young.
Biography
Edit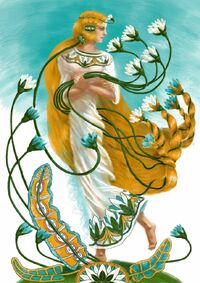 Vána was the younger sister of Yavanna and wife of Oromë. "All flowers spring as she passes and open if she glances upon them; and all birds sing at her coming."[2] She dwelt in gardens filled with golden flowers and often came to the forests of Oromë.
Melian the Maia was her friend and once served in her gardens in Valinor.[2]
In The History of Middle-earth, Tolkien wrote that even when the spells of Yavanna Kementari failed to heal the wounds of the Two Trees, Vána's love for the Golden tree Laurelin was so great that it caused the tree's remaining power to blossom in the form of a fruit of gold from which the Valar fashioned the Sun.
References
Edit
↑ 2.0 2.1 The Silmarillion, Valaquenta, "Of the Valar"
External link
Edit