Hi, welcome to The One Wiki to Rule Them All! Thanks for your edit to the File:Elros.PNG page. If you need help, read through our help pages or contact a local admin. If there are no active admins here, stop by Community Central and check out our forums.
Looking for live help? Then join us for an upcoming webinar to chat with staff and other Wikia editors. You can also check our Staff blog to keep up-to-date with the latest news and events around Wikia. Lastly, check out the Wikia Video Library, where you can find premium licensed videos to add to the wiki.
All of these links are a great way to start exploring Wikia.
Happy editing, Brandon Rhea
(help forum | blog) 16:22, December 14, 2013 (UTC)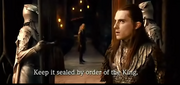 I believe the picture you have attached to Elros the guard is actually the elf Feren. Elros should have darker hair. He is the one who says Tauriel is in the forest when Legolas tells him to close the gates. The picture I attached is Elros.
Suzie r (talk) 00:54, January 4, 2014 (UTC)suzie_r
Wrong Userbox
Edit
You cannot use that Infobox here because it lists you (a user) in the In-universe characters and you are NOT one so you must use this one: [[Template:Userbox]]. I'll give you a week to fix it on your own if you have not, then I shall act alone to fix it.--DarkLantern (talk) 19:12, March 2, 2015 (UTC)