Comments

0
The Battle of the Five Armies Comes Home On March 24th!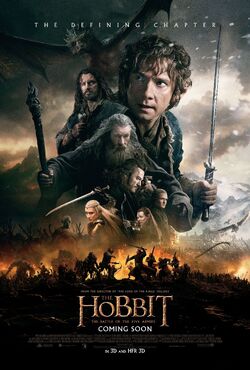 As of now,
The Hobbit: The Battle of the Five Armies
is still in theaters, but if you're like me, you knew you wanted your own copy even when you were buying tickets. Well, we're in luck! Here is some information that will help us continue our quest of owning the complete Hobbit film trilogy - in crisp, clear full HD, as it was meant to be seen - as well as what we can expect from the extras!

THE GOOD NEWS: Warner Bros. Home Entertainment announced today that the DVD / Blu-ray / Digital HD will be available on March 24th! :)
THE BAD NEWS: It's not March 24th yet! :P
Blu-ray and DVD
"The Hobbit: The Battle of the Five Armies" Blu-ray 3D Combo Pack, Blu-ray Combo Pack, and 2-Disc DVD Special Edition contain the following special features:
Recruiting the Five Armies
Completing Middle-earth
The Last Goodbye: Behind the Scenes
The Last Goodbye Music Video
New Zealand: Home of Middle-earth, Part 3
Digital Distribution
On March 24, "The Hobbit: The Battle of the Five Armies" will be available for streaming and download to watch anywhere in high definition and standard definition on preferred devices from select digital retailers including Amazon, CinemaNow, Flixster, iTunes, PlayStation, Target Ticket, Vudu, Xbox and others. "The Hobbit: The Battle of the Five Armies" will also be available digitally on Video On Demand services from cable and satellite providers, and on select gaming consoles.
Which home version do you plan to own?
---
---
Ad blocker interference detected!
Wikia is a free-to-use site that makes money from advertising. We have a modified experience for viewers using ad blockers

Wikia is not accessible if you've made further modifications. Remove the custom ad blocker rule(s) and the page will load as expected.