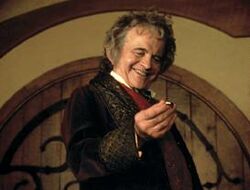 The titles for the upcoming movies based on The Hobbit have been revealed. The films will be released in 2012 and 2013. Beginning with the first film, The Hobbit: An Unexpected Journey, we will once again be taken to Middle-earth. This version of Middle-earth is set sixty years prior to the events of The Lord of the Rings (film). The Hobbit: An Unexpected Journey is set to be released on December 14, 2012.
The second Hobbit film, entitled "The Hobbit: There and Back Again," is scheduled to be released on December 13, 2013.
Both films are currently being filmed at the same time and are being shot in digital 3D by Peter Jackson. The screenplays for both of these films were written by the team of Fran Walsh, Philippa Boyens, Guillermo del Toro and Peter Jackson.
Sources
Ad blocker interference detected!
Wikia is a free-to-use site that makes money from advertising. We have a modified experience for viewers using ad blockers

Wikia is not accessible if you've made further modifications. Remove the custom ad blocker rule(s) and the page will load as expected.