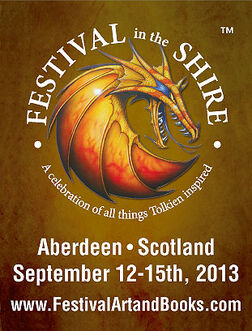 Press Release – August 2013
Festival in the Shire is coming to Scotland
We are pleased to announce that our next Festival in the Shire event will take place in Aberdeen, Scotland, from September 12-15th, 2013. It is being organised by Mark Faith's Festival Art and Books in association with the Artist Gallery and held at their premises in Holburn Street, Aberdeen.
The event will include an exhibition of fantasy art including album covers and Tolkien inspired art. Also on show will be a selection of rare Tolkien first edition books and collectable posters. World renowned artist Rodney Matthews, who has taken his talents to the world of fantasy art with great success, and a man who in the past has created album covers for rock bands such as Thin Lizzy, Asia and Magnum will be there to give a talk, present his work and sign your prints. Other artists include Ruth Lacon, Joe Gilronan, Ted Nasmith and Roger Dean and many more.
Mark Faith, founder of Festival Art and Books and Festival in the Shire, is not only Rodney Matthews' agent and a prolific collector of rare Tolkien first edition books and posters, he is also a Tolkien expert who has recently showcased his knowledge of the subject on a number of television programs including Channel 4's auction show Four Rooms. The event is to coincide with the airing of a new UK History channel series entitled Pawn Stars UK. Pawn Stars is one of the History Channel's flagship shows. The original US show was the second most viewed show in North America. Rodney Matthews and Mark Faith will be in an episode screening on the September 9th at 9pm. There will be another chance to see Mark Faith on screen when he appears on a second episode in which he will showcase his rare set of the first ten Hobbit impressions on Monday, September 23rd.
Newsflash – There will be a limited number of the new Hobbit book signed by the illustrator for sale during the festival.
Media pack available for download here
Ad blocker interference detected!
Wikia is a free-to-use site that makes money from advertising. We have a modified experience for viewers using ad blockers

Wikia is not accessible if you've made further modifications. Remove the custom ad blocker rule(s) and the page will load as expected.