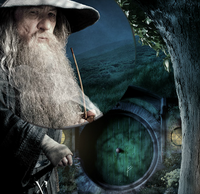 The visual aspects of Lord of the Rings films are always tip-top, so it comes as no surprise that this awesome visual art scroll is nothing short of stunning. It shows ten scenes from The Hobbit: An Unexpected Journey, and you can use the magnifier to scroll over each scene to get a closer look. No worries though, it shouldn't spoil any of the film for you!
In Comic-Con news, The Hobbit will be at Comic-Con on Thursday--will you be going?
Source: Entertainment Weekly
Ad blocker interference detected!
Wikia is a free-to-use site that makes money from advertising. We have a modified experience for viewers using ad blockers

Wikia is not accessible if you've made further modifications. Remove the custom ad blocker rule(s) and the page will load as expected.