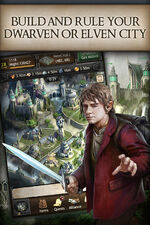 Hello there
Lord of the Rings
Wikians! I wanted to hope over here to remind you all that Kabam recently launched
The Hobbit: Kingdoms of Middle-earth
, a game heavily inspired by the upcoming
The Hobbit
film. The game is out now, for free, on the iOS app store.
I also want to invite you all to check out the game and edit the wiki to your heart's content. Feel free to browse information about the game as it comes in or, if you are enjoying the game, hop into the wiki and start editing yourselves!
Ad blocker interference detected!
Wikia is a free-to-use site that makes money from advertising. We have a modified experience for viewers using ad blockers

Wikia is not accessible if you've made further modifications. Remove the custom ad blocker rule(s) and the page will load as expected.