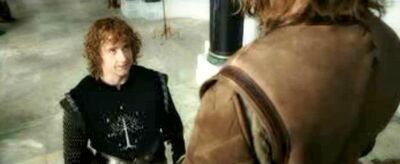 We're kind of excited about this news! Hypable reports that a much beloved actor from the "Lord of the Rings" trilogy will be contributing to the soundtrack for The Hobbit: The Battle of the Five Armies, but can you guess who it is? If you guessed Billy Boyd, aka Pippin, give yourself a pat on the back!
Boyd will perform a new song titled "The Last Goodbye" for The Hobbit: The Battle of the Five Armies' end credits. He co-wrote the song with Hobbit producers Phillipa Boyens and Fran Walsh. We will forever remember him as the adorable Pippin, but Boyd is actually the lead singer in a band named Beecake, which means he does have music experience!
Of course, we will forever remember that scene in Two Towers when he sang "Edge of the Night" so we're looking forward to hearing his song in the last Hobbit film!
Source: Hypable
---
---
Ad blocker interference detected!
Wikia is a free-to-use site that makes money from advertising. We have a modified experience for viewers using ad blockers

Wikia is not accessible if you've made further modifications. Remove the custom ad blocker rule(s) and the page will load as expected.