Comments

0
The Lord of the Rings Online devs showcase the Gap of Rohan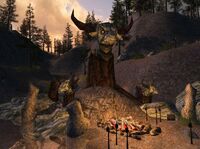 In the latest developer diary for The Lord of the Rings Online expansion Rise of Isengard, the game's creators discuss one of the locations featured in the add-on - the Gap of Rohan, where the Rohirrim battle the Dunlendings.
Here's a list of the new locations added in the expansion:
Dunland – Adventure amidst the bright forests in the foothills of the southern Misty Mountains. Beware the Dunland Clans, rugged warriors tempted by the dark promise of power.
Gap of Rohan – Battle over the legendary pass between Eriador and the plane of Rohan. This key strategic point must be defended against the ambitions of Sauron.
The Rise of Isengard will hit the store shelves on September 27.