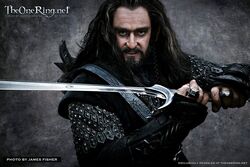 Lord of the Rings fansite TheOneRing.net was the one to get the final The Hobbit dwarf reveal - King Thorin Oakenshield himself, played by Richard Armitage.
As a young Dwarf prince, Thorin witnessed the destruction and terror wrought when a great fire-breathing Dragon attacked the Dwarf Kingdom of Erebor. After slaughtering many of Thorin's kin, the great serpent, Smaug, entered The Lonely Mountain and took possession of its vast store of gold and jewels. No-one came to the aid of the surviving Dwarves, and thus, a once proud and noble race was forced into exile. Through long years of hardship, Thorin grew to be a strong and fearless fighter and revered leader. In his heart a fierce desire grew; a desire to reclaim his homeland and destroy the beast that had brought such misery upon his people. So when fate offers him an unusual ally, he seizes the chance for revenge.
How do you like Armitage as the leader of the dwarves? Does he look "dwarfy" enough? Personally, I think his beard could be bigger, but otherwise I like the casting so far.
Ad blocker interference detected!
Wikia is a free-to-use site that makes money from advertising. We have a modified experience for viewers using ad blockers

Wikia is not accessible if you've made further modifications. Remove the custom ad blocker rule(s) and the page will load as expected.