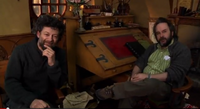 Director Peter Jackson has just released the second installment of The Hobbit video blog, where Jackson and Andy Serkis (Gollum actor and now also second unit director) take us behind the scenes of the upcoming movies. In the video, we see many of the actors portraying the fan-beloved characters and go scouting for locations in the gorgeous New Zealand.
Ad blocker interference detected!
Wikia is a free-to-use site that makes money from advertising. We have a modified experience for viewers using ad blockers

Wikia is not accessible if you've made further modifications. Remove the custom ad blocker rule(s) and the page will load as expected.