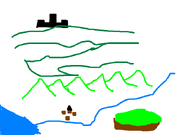 This is a blog where you create your own kingdoms and fight you own wars against other players.
Step 1: Name your kingdom
Step 2: Look at your points
Step 3: Choose what you want to do from the choices below, and enter it in a post.
REMEMBER TO REFRESH, WHEN A NEW POST COMES ON.
-   C 
Kingdoms
Tell where you want yours and what it looks like via map!
1.
2.
3.
4.
5.
6.
7.
8.
Each player starts out with 5,000 points
BUILD ARMY (50 TROOPS) 100 POINTS
BUILD CITY WALLS 500 POINTS
SCOUTS 20 POINTS (TELL WHERE YOU WANT TO SEND THEM.)
ISTARI (WIZARD) 1,000 POINTS
CALVARY (300 HORSEBACK) 500 POINTS
ARCHERS (500) 400 POINTS
START NEW COLONY(TELL WHERE ON MAP)
HAVE FUN PLAYING!!!!!!! :)