Ad
Members of the Fellowship

External Links
Other Lord of the Rings Wikia sites
Athelas is a healing herb, also known as Kingsfoil or Asëa Aranion.
It was first brought to Middle-earth by Númenoreans, but by the end of the Third Age the knowledge of its healing properties was lost among all but the Rangers of the North.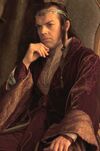 Elrond the Half-elven (FA 525 - ?) was Lord of Rivendell, one of the mighty rulers of old that still remained in Middle-earth in its Third Age.
He was the son of Eärendil and Elwing, and a great-grandson of Lúthien, born in Beleriand, in the First Age, making him well over 6,000 years old by the time of the War of the Ring. Elrond's brother was Elros, Tar-Minyatur, the first High King of Númenor.
The One Wiki to Rule them All includes videos; Youtube videos and Wikia Videos can be added to any page.

The Hobbit: The Battle of the Five Armies Clip: "I'm not alone"
The One Wiki to Rule Them All, previously the Lord of the Rings Wiki, is Not in any way, shape, or form affiliated with Saul Zaentz, Middle-earth Enterprises, the Tolkien Estate, New Line Cinema, or Wingnut Films.
Copyrights and trademarks for the books, films, and other promotional materials are held by their respective owners and their use is allowed under the fair use clause of the Copyright Law.
Bold text