Merrystar/Sandbox
Talk

2
5,214pages on
this wiki
Ad
Members of the Fellowship
External Links
Other Lord of the Rings Wikia sites
Helm's Deep was a large valley in the north-western Ered Nimrais (White Mountains).
The valley was blocked over its entire width by the natural series of hills called Helm's Dike. Behind that lay the fortress of Aglarond or the Hornburg, at the entrance to the Glittering Caves.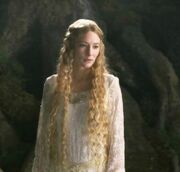 Galadriel was an elf-queen of Middle-earth and the co-ruler of Lothlórien along with Lord Celeborn. She could be referred to as The Lady of Lórien, The Lady of the Galadhrim, or The Lady of the Wood interchangably. Within the realm of Lothlórien, she was referred to as simply Lady Galadriel or The Lady. When she and Celeborn were being referred to collectively, they were known as The Lord and Lady.
She was originally named Artanis ("noble woman") and Nerwen ("man-maiden", referring to her height and strength). Galadriel is the Sindarinized version of Telerin Quenya Alatáriel, the name given her by her lover Celeborn, meaning "maiden crowned with a garland of bright radiance", which referred to her hair. The Elves of Tirion said it captured the radiance of the Two Trees Laurelin and Telperion themselves. It was greatly admired by Fëanor and may have inspired him to create the Silmarils.
The name Galadhriel was used outside Lórien by the people who did not know the ancient days and Galadriel's history, confusing with the Elvish word galadh ("tree") and the name of the Galadhrim, the people of Lórien.
The One Wiki to Rule them All includes videos; Youtube videos and Wikia Videos can be added to any page.

The Hobbit: The Battle of the Five Armies Official Trailer
The One Wiki to Rule Them All, previously the Lord of the Rings Wiki, is Not in any way, shape, or form affiliated with Saul Zaentz, Middle-earth Enterprises, the Tolkien Estate, New Line Cinema, or Wingnut Films.
Copyrights and trademarks for the books, films, and other promotional materials are held by their respective owners and their use is allowed under the fair use clause of the Copyright Law.
Bold text