Ufthak
Talk

0
5,244pages on
this wiki
{{{image}}}
{{{caption}}}
Year ascended to the throne
Ufthak (d. 3019 ?) was a Mordor orc serving in the Tower of Cirith Ungol before Samwise and Frodo came along into the land to Mount Doom.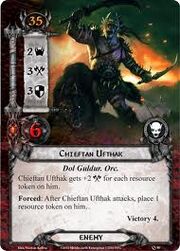 At some undermined time while with a band of fellow orcs including Shagrat, Ufthak got lost in the tunnels and was caught by Shelob, poisoned and hung up in a corner. When the others found him he was still alive and awake but did nothing to help him, out of fear of what would happen if they interfered with her work.
Etymology
Edit
Ufthak in the Black Speech meant "Ugly Faced".
References
Edit
External link
Edit