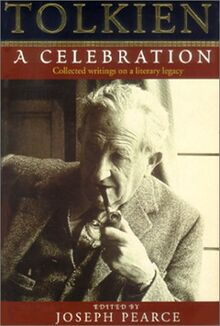 Tolkien: A Celebration. Collected Writings on a Literary Legacy (ISBN 0-89870-866-4) is a collection by Joseph Pearce of fourteen essays and articles about J.R.R. Tolkien, written and contributed by different Tolkien scholars and by acquaintances of his. It was published by HarperCollins (UK) in 1999, and is dedicated to Owen Barfield, the first of the Inklings, who had died two years before.
A new edition was published in 2001 by Ignatius Press (San Francisco).
Table of contents
Preface
Acknowledgements
Dedication
Over the Chasm of Fire: Christian Heroism in The Silmarillion and The Lord of the Rings by Stratford Caldecott
Tolkien and the Catholic Literary Revival, Joseph Pearce (the editor)
Tolkien and C.S. Lewis: An Interview with Walter Hooper
Ad blocker interference detected!
Wikia is a free-to-use site that makes money from advertising. We have a modified experience for viewers using ad blockers

Wikia is not accessible if you've made further modifications. Remove the custom ad blocker rule(s) and the page will load as expected.