Tolkien's World (ISBN 978-1-62686-773-4) is the name of a coloring book that contains ninety-two pages of uncolored Middle-earth illustrations, published in 2015 by Thunder Bay Press (San Diego) and copyrighted under Octopus Publishing Group.
Of the seventy-nine drawings, fifty-four are by the Italian illustrator Mauro Mazzara. The others drawings were contributed by Viktor Ambrus, Ian Miller, Andrea Piparo, and John Davis. The order of illustrations is chronological, beginning with the Trees of Valinor and ending with Sam Gamgee's family.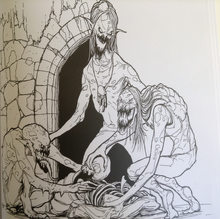 Ad blocker interference detected!
Wikia is a free-to-use site that makes money from advertising. We have a modified experience for viewers using ad blockers

Wikia is not accessible if you've made further modifications. Remove the custom ad blocker rule(s) and the page will load as expected.