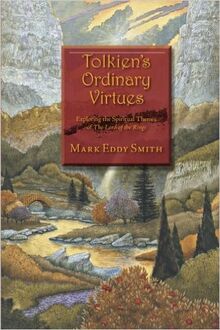 Tolkien's Ordinary Virtues: Exploring the Spiritual Themes of The Lord of the Rings (ISBN 0-8308-2312-3) by Mark Eddy Smith is a 141-page long book that explores the Christian qualities of goodness that can be discovered within the story of The Lord of the Rings.
It was written in 2002, and published by InterVarsity Press (Illinois) in paperback. The book became available also as an audio-book in 2005, from Blackstone Audiobooks, read by Simon Vance.
Table of contents
Edit
Acknowledgements
Introduction
Part One - Ordinary Virtues
Part Two - A Good Beginning
Part Three - A New Beginning
Part Four - Help Unlooked-For
Part Five - The Good Fight
Part Six - The Road Goes Ever On And On
Ad blocker interference detected!
Wikia is a free-to-use site that makes money from advertising. We have a modified experience for viewers using ad blockers

Wikia is not accessible if you've made further modifications. Remove the custom ad blocker rule(s) and the page will load as expected.