Tol Galen was a green isle that lay between the two arms of the River Adurant in the south of Ossiriand, and was the center of a land known as Dor Firn-i-Guinar.[1]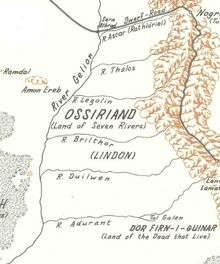 Tol Galen was the place that Beren and Lúthien lived out the rest of their mortal lives after being released from the Halls of Mandos.[2][3]
Etymology
Edit
Tol Galen was a Sindarin word that meant 'Green Island'.[4]
Translations around the World
Edit
| Foreign Language | Translated name |
| --- | --- |
| Amharic | ቶል ግሌን |
| Arabic | تول جالينوس |
| Armenian | Տոլ Գալեն |
| Belarusian Cyrillic | Тол Гален |
| Bengali | টোল গ্যালেন |
| Bulgarian Cyrillic | Тол Гален |
| Chinese (Hong Kong) | 嘉蘭島 |
| Georgian | ტოლ გალენი |
| Greek | Τολ Γαλεν |
| Gujarati | ટોલ ગેલેન |
| Hebrew | טול גאלן |
| Hindi | सहने गैलेन |
| Kannada | ಟೋಲ್ ಗ್ಯಾಲೆನ್ |
| Kazakh | Тол Гален (Cyrillic) Tol Galen (Latin) |
| Korean | 톨 갈렌 |
| Kyrgyz Cyrillic | Тол Галэн |
| Macedonian Cyrillic | Тол Гален |
| Mongolian Cyrillic | Тол Галэн |
| Nepalese | टोल ङलेन |
| Pashto | طول عالېن ? |
| Persian | طول عالهن ? |
| Punjabi | ਤਾਲ ਗਲੇਨ |
| Russian | Тол Гален |
| Sanskrit | टोल् ङलेन् |
| Serbian | тол Гален (Cyrillic) Tol Galen (Latin) |
| Sinhalese | ටොල් ගලෙන් |
| Tajik Cyrillic | Тол Гален |
| Tamil | டோல் கலென் |
| Telugu | టోల్ గాలెన్ |
| Ukrainian Cyrillic | Тол Ґален |
| Urdu | ٹول گیلن |
| Uzbek | Тол Гален (Cyrillic) Tol Galen (Latin) |
| Yiddish | טאָל גאַלען |
References
Edit