!
Non-Canon Alert!
The subject of this article originates from non-canonical sources. To find out about what is considered "canon" see LOTR:Canon.
!
The Wight Lord was a boss in The Hobbit Game.
He appeared in the "Flies and Spiders" level. His difficulty is due only to the constriction of the level; his minions and missiles only add to the chaos. Taking out the harder minions, and then wailing on him with
Sting
, all the while watching the health bubbles (and eating the lovely health mushrooms), proves the easiest way to defeat him.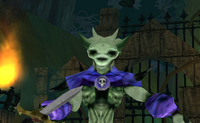 Ad blocker interference detected!
Wikia is a free-to-use site that makes money from advertising. We have a modified experience for viewers using ad blockers

Wikia is not accessible if you've made further modifications. Remove the custom ad blocker rule(s) and the page will load as expected.