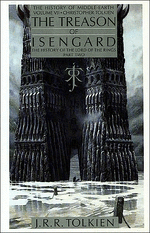 The Treason of Isengard (1989) is the seventh volume of The History of Middle-earth.
It continues to the meeting with Théoden, king of Rohan.
The inscription in Book VII reads: In The Treason of Isengard the story of the Fellowship of the Ring is traced from Rivendell through Moria and the Land of Lothlorien to the time of its ending at Salembel beside Anduin the Great river, then is told of the return of Gandalf Mithrandir, of the meeting of the hobbits with Fangorn and of the war upon the Riders of Rohan by the traitor Saruman.
Ad blocker interference detected!
Wikia is a free-to-use site that makes money from advertising. We have a modified experience for viewers using ad blockers

Wikia is not accessible if you've made further modifications. Remove the custom ad blocker rule(s) and the page will load as expected.