Ad blocker interference detected!
Wikia is a free-to-use site that makes money from advertising. We have a modified experience for viewers using ad blockers

Wikia is not accessible if you've made further modifications. Remove the custom ad blocker rule(s) and the page will load as expected.
The Tolkien Bestiary (ISBN 0-920080-47-2) is chiefly an illustrated reference book pertaining to the eras, flora, fauna, and people-groups of Middle-earth throughout all Ages, written by David Day in 1978 and currently published by Harbour Publishing (Canada).
Large illustrations accompany each of the book's 258 Bestiary-pages (which comprise the fourth encyclopedic part of the book). These illustrations are mostly by Ian Miller and Allan Curless, yet the others are by Michael Foreman, Lidia Postma, John Blanche, Pauline Martin, Victor Ambrus, Sue Porter, Jaroslav Bradac, Linda Garland, and John Davis.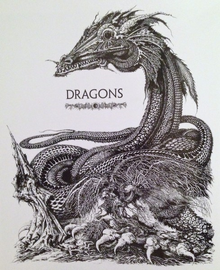 Table of Contents
Edit
Author's Preface
List of Illustrations
A Map of Middle-earth and The Undying Lands
A Chronology of Middle-earth and the Undying Lands
A Chronology of the Kingdoms on Middle-earth in the Ages of Sun
A Bestiary of the Beasts, Monsters, Races, Deities and Flora
Genealogies of the races and kingdoms of Elves and Men
Index of principal sources
General Index