Ad blocker interference detected!
Wikia is a free-to-use site that makes money from advertising. We have a modified experience for viewers using ad blockers

Wikia is not accessible if you've made further modifications. Remove the custom ad blocker rule(s) and the page will load as expected.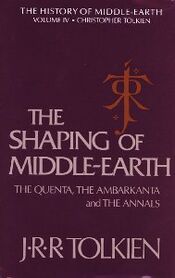 The Shaping of Middle-earth is the fourth volume of Christopher Tolkien's 13-volume series The History of Middle-earth, in which he analyzes the unpublished manuscripts of his father J. R. R. Tolkien. It was published in 1986.
In it the gradual transition from the "primitive" legendaria of The Book of Lost Tales to what would become The Silmarillion is described, and it contains a text which could be seen as the first "Silmarillion": the "Sketch of the Mythology".
Three very interesting other parts are the Ambarkanta or "Shape of the World", a collection of maps and diagrams of the world described by Tolkien; and the Annals of Valinor and Beleriand, chronological works which started out as timelines but gradually turned into full narrative.
Contents
Edit
Prose fragments following the Lost Tales brief, uncompleted texts which continue on from The Book of Lost Tales
The earliest "Silmarillion" also referred to as the "Sketch of the Mythology", this is the start of the Silmarillion proper
The Quenta a further developed version of the "Sketch", the first full narrative since the Tales
The first "Silmarillion" map a reproduction of the first map of Beleriand
The Ambarkanta cosmological essays, maps, and diagrams
The earliest Annals of Valinor
The earliest Annals of Beleriand
Translations around the World
Edit
| Foreign Language | Translated name |
| --- | --- |
| Afrikaans | Die Vorming van die Middel-aarde |
| Albanian | Formimin e Mesme-tokë |
| Arabic | تشكيل الأرض الوسطى |
| Armenian | Ձեւավորումը միջին երկրի |
| Azerbaijani | Orta yerin Formalaşmasında |
| Belarusian Cyrillic | Фарміраванне Міжзем'е |
| Bengali | মধ্যম পৃথিবীর রুপায়ণ |
| Bosnian | Oblikovanje od Međuzemlja |
| Bulgarian Cyrillic | Оформянето на Средната земя |
| Cambodian | រូបរាងនៃមជ្ឈឹមនៅលើផែនដី ? |
| Catalan | La Formació de la Terra Mitjana |
| Chinese | 中土的塑造 |
| Croatian | Oblikovanje od Međuzemlja |
| Czech | Tvarování z Středozemě |
| Danish | Udformningen af Midgård |
| Dutch | De Vormgeving van Midden-aarde |
| Esperanto | La Formado de la Duona Tero |
| Estonian | Kujundamisel Keskmaa |
| Filipino | Ang Paghubog ng Gitna ng mundo |
| French | La Formation de la Terre du Milieu |
| Frisian | De foarm jaan fan midden-ierde |
| Icelandic | Mótun af Miðgarði |
| Indonesian | Pembentukan tengah-bumi |
| Irish Gaelic | Mhúnlú na lár-domhain |
| Italian | La Formazione della Terra di Mezzo |
| Galician | A Formación da Terra-media |
| Georgian | ჩამოყალიბებაში შუამიწეთის |
| German | Die Gestaltung von Mittelerde |
| Greek | Η διαμόρφωση της Μέσης Γης |
| Gujarati | મધ્યમ પૃથ્વી આકાર |
| Hebrew | בעיצובה של הארץ התיכונה |
| Hindi | मध्य-पृथ्वी के आकार देने |
| Hungarian | A Formálás Középfölde |
| Japanese | 中つ国の整形 |
| Kannada | ಭೂಮಿಯ ಮಧ್ಯಭಾಗವನ್ನು ಶೇಪಿಂಗ್ |
| Kazakh Cyrillic | орта-жер Пішіндейтін |
| Korean | 중간계의 쉐이핑 |
| Kyrgyz Cyrillic | орто-жер калыптануусу |
| Laotian | ຮູບຮ່າງຂອງແຜ່ນດິນໂລກກາງ ? |
| Latin | Formanda Medio terrae |
| Latvian | Veidošanā Tuvo zemes |
| Lithuanian | Iš Vidurio žemės formavimas |
| Luxembourgish | D'formen vu Mëtt-Äerd |
| Macedonian Cyrillic | Обликувањето на Блискиот Земјата |
| Malay | Pembentukan pertengahan bumi |
| Maltese | Il Formazzjoni ta 'Terrapien nofs |
| Marathi | मध्य-पृथ्वी च्या संधी चालून |
| Mongolian Cyrillic | Дунд дэлхийн хэлбэржүүлэх |
| Nepalese | मध्य पृथ्वीको आकार दिन ? |
| Pashto | د منځنۍ ځمکه د څیری ? |
| Persian | شکل دادن از میانه زمین |
| Polish | Kształtowanie Śródziemia |
| Portuguese | A Formação da Terra-média |
| Punjabi | ਮੱਧ-ਧਰਤੀ ਦੇ ਸ਼ੇਪਿੰਗ |
| Romanian | Modelarea Pământului de Mijloc |
| Russian | Устроение Средиземья |
| Scottish Gaelic | Tha Cumadh na Meadhan-talmhainn |
| Serbian | Обликовање Миддле-Еартх (Cyrillic) U oblikovanju srednje zemlje (Latin) |
| Sinhalese | මධ්යම පොළොවේ හැඩගැන්වීම |
| Slovak | Tvarovanie z Stredozeme |
| Slovenian | Oblikovanje Srednji svet |
| Swahili | Kuchagiza ya Kati-dunia |
| Swedish | Utformningen av Midgård |
| Spanish | La Formación de la Tierra Media |
| Tajik Cyrillic | Дар ташаккули миёна замин |
| Tamil | மத்திய புவி வடிவமைப்பதில் |
| Ukrainian Cyrillic | улаштування Середзем'я |
| Uzbek | Яқин-ернинг шакллантириш (Cyillic) Yaqin-erning shakllantirish (Latin) |
| Yiddish | די שאַפּינג פון מיטל-ערד |
| Yoruba | Awọn mura ti Arin-ayé |