The Road to Middle-earth (ISBN 978-0-618-25760-7), by Tom Shippey, is a literary analysis of Tolkien's stories from the perspective of a fellow philologist; last revised 2003, and first published by Allen & Unwin in 1983.
Shippey shows in great detail how Tolkien`s professional background lead him to write The Hobbit and how he created a timeless charm for millions of readers. Examining the philological foundation of Tolkien's most popular work, The Lord of the Rings, Shippey also discusses the contributions of The Silmarillion and Unfinished Tales to Tolkien`s great myth cycle, showing how Tolkien`s more difficult books can be fully appreciated. He goes on to examine the remarkable twelve-volume The History of Middle-earth, which Christopher Tolkien wrote and compiled, which tracing the creative and technical process by which Middle-earth evolved.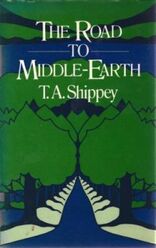 Ad blocker interference detected!
Wikia is a free-to-use site that makes money from advertising. We have a modified experience for viewers using ad blockers

Wikia is not accessible if you've made further modifications. Remove the custom ad blocker rule(s) and the page will load as expected.