Ad blocker interference detected!
Wikia is a free-to-use site that makes money from advertising. We have a modified experience for viewers using ad blockers

Wikia is not accessible if you've made further modifications. Remove the custom ad blocker rule(s) and the page will load as expected.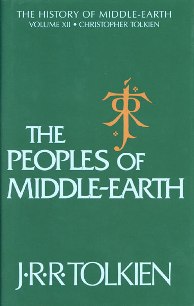 The Peoples of Middle-earth (ISBN 978-0-261-10348-1) is the twelfth and final volume of The History of Middle-earth, edited by Christopher Tolkien from the unpublished manuscripts of his father J.R.R. Tolkien.
Translations around the World
Edit
| Foreign Language | Translated name |
| --- | --- |
| Afrikaans | Die Volke van Midde-aarde |
| Albanian | Popujt të Toka e mesme |
| Arabic | شعوب الأرض الوسطى |
| Armenian | Ժողովուրդները Մերձավոր երկրի |
| Azerbaijani | Orta yerin Xalqlar |
| Basque | Erdi-lurra herrien |
| Belarusian Cyrillic | Народы Сярэдняй зямлі |
| Bengali | মিডিল আর্থ এর পিপলস |
| Bulgarian Cyrillic | Народите на Средната земя |
| Burmese | အလယျပိုငျး-မြေကြီးပြည်သူ့ပါတီ |
| Catalan | Els Pobles de la Terra-mitjana |
| Chinese | 中土世界的人民 |
| Corsican | U Paesani di Medio-terra |
| Croatian | Naroda Međuzemlja |
| Czech | Středozemě Lidu |
| Danish | Befolkningerne i Midgård |
| Dutch | De Volkeren van Midden-aarde |
| Esperanto | La Popoloj de Mez-Tero |
| Estonian | Rahvad Keskmaa |
| Finnish | Keski-maan kansat |
| French | Les Peuples de la Terre du Milieu |
| Frisian | De Folken fan Midden-ierde |
| Galician | Os Pobos da Terra-media |
| Georgian | შუახმელეთი ხალხი |
| German | Die Völker von Mitte-lerde |
| Greek | Οι λαοί της Μέσης Γης |
| Haitian Creole | Pèp yo nan Mwayen-latè |
| Hebrew | עמי הארץ התיכונה |
| Hindi | मध्य पृथ्वी की पीपुल्स |
| Hungarian | Középfölde népei |
| Icelandic | Þjóðir á Miðgarði |
| Indonesian | Dunia Tengah Rakyat |
| Irish Gaelic | Beartaithe ag Pobail na Lár-domhain |
| Italian | I Popoli della Terra di Mezzo |
| Japanese | 中つ国の人民 |
| Javanese | Bangsa bumi tengah ? |
| Kannada | ಭೂಮಿಯ ಮಧ್ಯಭಾಗವನ್ನು ಪೀಪಲ್ಸ್ |
| Kazakh Cyrillic | Таяу жер халықтары |
| Korean | 중간계의 사람들 |
| Kurdish | عه‌لێن ه‌ردێ ناڤین ? (Arabic script) Gelên erdê Navîn (Latin) |
| Laotian | ປະຊາຊົນຂອງກາງໃນທົ່ວໂລກ |
| Latin | Populus Terra Media |
| Latvian | Tautām Tuvo zemes |
| Lithuanian | Iš viduriniosios žemės tautos ? |
| Macedonian Cyrillic | Народите на Блискиот Земјата |
| Malay | Manusia tengah-bumi |
| Maltese | Il Popli tal-ħamrija nofs |
| Marathi | मध्य-पृथ्वी च्या लोकांचे |
| Mongolian Cyrillic | дунд дэлхийн ард түмэн ? |
| Nepalese | मध्य-पृथ्वीको जनताहरु |
| Norwegian | Folkene i Midgard |
| Pashto | د منځني-ځمکه د خلکو |
| Persian | مردم از میانه زمین |
| Polish | Ludy Śródziemia |
| Portuguese | Os Povos da Terra-média |
| Punjabi | ਮੱਧ-ਧਰਤੀ ਦੇ ਪੀਪਲਜ਼ |
| Romanian | Popoarelor Pământului de Mijloc |
| Russian | Народы Средиземья |
| Samoan | O le Tagata o Tutotonu-lalolagi |
| Scottish Gaelic | Tha Sluagh na Meadhan-talmhainn |
| Serbian | Народима средње земље (Cyrillic) Narodima srednje zemlje (Latin) |
| Sindhi | وچ-زمين جي پيپلز |
| Slovak | Národy Stredozeme |
| Slovenian | Narodi Srednjem svetu |
| Somalian | Oo Dadyowgii ee Dhexe-dhulka |
| Spanish | Los Pueblos de la Tierra Media |
| Sudanese | Bangsa tengah-bumi |
| Tajik Cyrillic | Дар Мардумии Миёна-замин ? |
| Tamil | மத்திய புவி மக்கள் |
| Telugu | మిడిల్ ఎర్త్ పీపుల్స్ |
| Tongan | He kakai 'o mamani he vaeua'anga malie |
| Turkish | Orta Dünya'nın halkları |
| Ukrainian Cyrillic | народи Середзем'я |
| Urdu | مشرق زمین کے عوام ? |
| Uzbek | Яқин-ернинг Халқ (Cyrillic) Yaqin-erning Xalq (Latin) |
| Vietnamese | Các dân Trung-trái đất |
| Welsh | Mae Pobl o bridd Canol |
| Yiddish | די פֿעלקער פון מיטל-ערד |
| Yoruba | Awọn Enia ti Arin-ayé |