The Lord of the Rings: Top Trumps are a trilogy of Top Trump card-packs based on the The Lord of the Rings movie trilogy.
Culture (This stat actually is not numbered and cannot be selected, but displays the culture or species of the selected character)
Resistance to Ring (How much the selected character can resist the One Ring).
Age (How many years the character has walked the Earth, or, simply how old they are)
Resilience (How well the character reacts to danger and his or her ability to live on and defend themselves)
Ferocity (The ferocity and skill in battle)
Magic (How powerful they are in magic and sorcery)
Height (How tall a character is)
Fact File (This is also not an actual stat. Displayed here is information and history on the selected character of the card)
The Fellowship of the Ring
Edit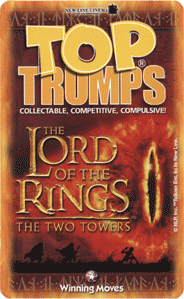 The Two Towers
Edit
The Return of the King
Edit
Trilogy Gift Set
Edit
This is a special exclusive set that contains the three original packs and nine special Super Top Trumps cards for the Lord of the Rings Top Trumps.
The only character to age even one year is Aragorn (not including 34 year old Sméagol and 589 year old Gollum, they were 2 different Top Trumps)
Non-appearances in the cards
Edit
FOTR:
• Gollum

TTT:
• Gollum
• Witch-King

ROTK:
• Galadriel
• Bilbo
• Witch-King
Super Top Trumps
Edit
Super Top Trumps are special and more powerful Top Trumps cards that cannot be found in an ordinary pack. There are twelve Lord of the Rings Super Top Trump cards.
To obtain these, it requires special methods. These can be only be found on the internet, in magazines, etc.
Trilogy Gift Set
Edit
These are the Super Top Trumps obtained in the gift set mentioned earlier.
German Ringcon Super Top Trumps
Edit
There were also the following cards given away at this 2004 event in Germany, and in German language only; the cards are now quite rare.
Possibilities
Edit
These are a few possibilities for Lord of the Rings Super Top Trumps of the future:
Ad blocker interference detected!
Wikia is a free-to-use site that makes money from advertising. We have a modified experience for viewers using ad blockers

Wikia is not accessible if you've made further modifications. Remove the custom ad blocker rule(s) and the page will load as expected.