The Lord of the Rings: Weapons and Warfare
Talk

0
Share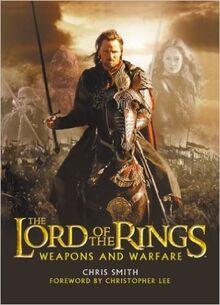 The Lord of the Rings: Weapons and Warfare (ISBN 0-00717201-X) is an illustrated and narrated guide to the battles and race-lore of Peter Jackson's Lord of the Rings film-trilogy. It was written by Chris Smith in 2003, produced by Arjen Jansen, and published by Harper Collins Publishers (London).
Following a foreword by Christopher Lee and an insightful introduction by Richard Taylor and Daniel Falconer, Weapons and Warfare features 214 detailed descriptive pages concerning each skirmish, piece of armor, weapon, weapon inscription, monster, insignia, and people-group that appears in the films. The illustrations throughout the book are mostly cinematic stills - both shots that were from the final movies and ones that were not - with concept-sketches, like those found throughout Gary Russell's The Art of… series, being less frequent. Aside from photographs and sketches, there are a few concept-sculptures and maps; some maps that are Elven and written in Tengwar. A glossary of terms finishes the book, containing the definitions for all technical armor and weaponry-terminologies that were mentioned.
Canon and Purpose
Edit
All illustrations and sketches accompany Chris Smith's ongoing, expository story-telling of the topics' histories. Some background that he gives of certain events is not adherent to the true canon of J.R.R. Tolkien's Middle-earth, and instead is invented. The identity of Elrond's sword Hadhafang originates from this extracanonical cinema-lore, as do the Sindarin inscriptions that can be seen upon the blades of Hadhafang, Aragorn's hunting-knife, Gil-galad's spear Aiglos, and Glamdring. Even the large spear in Moria that the Cave-troll wields to stab Frodo was assigned a Khuzdul inscription, and even yet the Mouth of Sauron's helmet a Black Speech runic inscription. This book also provides, among its many maps, graphics that display the army-movements and "battle-plans" of every large conflict that was brought to life in the film-trilogy, created by Ben Wooten and Warren Mahy.
Because of these things, and the specifics within provided by the author, Weapons and Warfare would serve as a citable reference for movie-facts on a higher degree than any other published, officiated guide to the films.
Ad blocker interference detected!
Wikia is a free-to-use site that makes money from advertising. We have a modified experience for viewers using ad blockers

Wikia is not accessible if you've made further modifications. Remove the custom ad blocker rule(s) and the page will load as expected.