The Languages of Tolkien's Middle-earth is a reference and explanatory book written by Ruth S. Noel, published currently by the Houghton Mifflin Company (Boston). It serves as a lexical and grammatical handbook for enthusiasts of Tolkien's invented languages and scripts, and includes also the narrative of Tolkien as a linguist.
As of 1980, however, the sections of the book pertaining to Elvish are outdated and in many places innaccurate, specifically in the area of learning Quenya and of comparisons between Quenya and Sindarin. [1]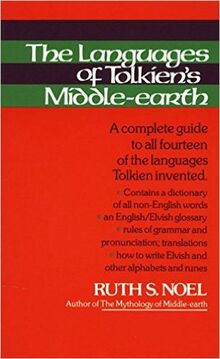 Table of contents
Edit
Part I: Language in Tolkien's Middle-earth

Tolkien the Linguist
Westron and the Lines of the Kings
The Language of Hobbits
The Language of the Rohirrim
The Languages of Rhovannion - (In this chapter, words and names such as Arkenstone, Olorin, and Scatha are translated via their roots in Old English, Old Norse, Old High German, or even Slavonic.)
Quotations Translated
Runes and Letters

Part II: The Elvish Languages

The Elven Tongues and the Power of Language
Using Elvish
English-to-Elvish Glossary

Part III: The Tolkien Dictionary: Fourteen Tolkien Languages

Pronunciation
Codes - this is a legend for the following chapter, which is a glossary
The Tolkien Dictionary
In the Table of Contents, chapter 5 of Part I is spelled "The Languages of Rhovannion". Rhovanion is the correct spelling of the place.
In chapter 5, "The Languages of Rhovannion", the entry for the word Dwarrowdelf (which is Moria) is spelled Dwerrowdelf.
Editions
Edit
The book was written in 1974, at which time its full title was The Languages of Middle-earth. The Mirage Press publication of this book had the same title.
Hardback: ISBN 0-395-29129-1
Paperback: ISBN 0-385-29130-5
External reference
Edit
External link
Edit