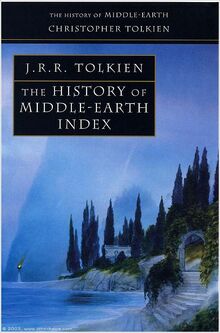 A combined index named The History of Middle-earth: Index (ISBN 0007137435) was compiled by Helen Armstrong from the indices of the twelve original volumes. It was published in 2002 by HarperCollins in paperback, six years after the series by Christopher Tolkien was completed, and then again in 2010.
The book creates a supreme index charting the writing of The Lord of the Rings and The Silmarillion. It also complements the History of Middle-earth  series, repackaged to complement the distinctive and classic style of the '"black cover" A-format paperbacks of The Hobbit, The Lord of the Rings, The Silmarillion, and Unfinished Tales.
It is 484 pages long, and is designated as the thirteenth (and last) volume of The History of Middle-earth.
Ad blocker interference detected!
Wikia is a free-to-use site that makes money from advertising. We have a modified experience for viewers using ad blockers

Wikia is not accessible if you've made further modifications. Remove the custom ad blocker rule(s) and the page will load as expected.