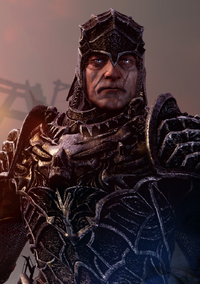 "The Hammer of Sauron" is the name of a villain in the video game Middle-earth: Shadow of Mordor.
Middle-earth: Shadow of Mordor
Edit
The Hammer is one of Sauron's Black Captains alongside The Tower of Sauron and The Black Hand of Sauron. He was once a man, a stretcher-bearer for Gondor dedicated to retrieving the wounded. His life changed on the slopes of Mount Doom when he retrieved Sauron's mace after the Dark Lord fell.
When he took up the weapon of Sauron, he realized that his life had been wasted in saving others who sought glory in war. If Men wished to die gloriously in battle, he would grant them their wish with pleasure.
He became doomed to a bloodlust that would never be sated. He has waited millennia for the Dark Lord's return to Mordor and when he returned his purpose had been revealed to him.
He is later slain by Talion, a ranger of the Black Gate and the protagonist of the game.
As with the Mouth of Sauron, the Hammer's true name is unknown.
Ad blocker interference detected!
Wikia is a free-to-use site that makes money from advertising. We have a modified experience for viewers using ad blockers

Wikia is not accessible if you've made further modifications. Remove the custom ad blocker rule(s) and the page will load as expected.