Haeremai, Приветствовать, talofa, Willkommen, bienvenue, welcome, benvenuto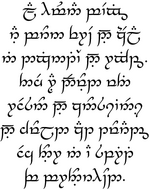 My master Sauron the Great biddeth thee welcome, thanketh thee for thy edits, and requesteth that thou create an account.
Welcome to the One Wiki to Rule Them All! We hope you can make continuing contributions of articles and/or discussion. By creating an account you can be recognised as a full member of this wiki community, and help build this wiki to make it become greater. More information on the benefits of creating an account can be found at Help:Why create an account.
Enjoy!