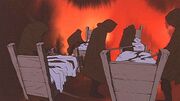 The
J.R.R. Tolkien's The Lord of the Rings
is the title of an
animated
film
produced and directed by
Ralph Bakshi
, and released to theaters in 1978. It was an adaptation of the first half of
J. R. R. Tolkien
's
The Lord of the Rings
. Bakshi's most ambitious effort (and his most famous after his animated adaptation of the underground comic
Fritz the Cat
), the film was produced by Saul Zaentz's Fantasy Films, but distributed to theaters by
United Artists
.
The movie makes a few deviations from the book, but overall follows Tolkien's narrative quite closely. Many parts of the novel explaining the transition from one part of the plot to another were omitted which makes the middle part of the movie somewhat difficult to follow, if the viewer is unfamiliar with the story.
In the film's prologue it is suggested that Sauron learned the craft of ring-making after the 19 lesser rings were made whilst in the original story it is Sauron who teaches the Elven smiths this ability.
Another deviation suggests that the last alliance of men and elves was losing the war which contradicts the original story.
In the film, Gollum killed his friend Deagol in order to take control of the Ring. This is suggested by Gandalf in the book, but Tolkien does not confirm that this is actually the case.