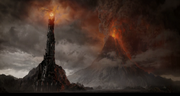 Mordor was the dwelling place of Sauron, in the southeast of Middle-earth to the East of Anduin, the great river. Frodo and Sam went there to destroy the One Ring. Mordor was unique because of the three enormous mountain ridges surrounding it, from the North, from the West and from the South, that protected this land from an unexpected invasion by any of the people living in those directions.
Mordor was protected from three sides by mountain ranges, arranged roughly rectangularly: Ash Mountains (Ered Lithui) in the north, Ephel Dúath (Mountains of Shadow) in the west, and an unnamed (or possibly still called Ephel Dúath) range in the south. In the northwest corner of Mordor, the deep valley of Udûn was the only entrance for large armies, and that is where Sauron built the Black Gate of Mordor. In front of the Morannon lay the Dagorlad or the Battle Plain. Sauron's main fortress Barad-dûr was at the foothills of Ered Lithui. To the southwest of Barad-dûr lay the arid plateau of Gorgoroth and Mount Doom; to the east lay the plain of Lithlad. A narrow pass led through Ephel Dúath and the fortress of Minas Morgul (earlier Minas Ithil) was guarding that; an even more difficult pass was guarded by the giant spider Shelob and the fortress of Cirith Ungol. Another known fortress was Durthang in northern Ephel Dúath.
The southern part of Mordor, Núrn, was slightly more fertile and moist enough to carry the inland Sea of Núrnen. Nurn was made somewhat fertile because the ash blown from Mount Doom left its soil nutrient rich, thus allowing dry-land farming. Unfortunately, the inland sea of Núrn was salty, not freshwater.
To the west of Mordor was the narrow land of Ithilien with the city of Osgiliath and the great river Anduin, to the northeast Rhûn, and to the southeast, Khand.