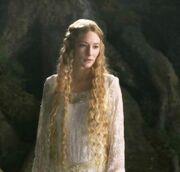 Galadriel was an elf-queen of Middle-earth and the co-ruler of Lothlórien along with Lord Celeborn. She could be referred to as The Lady of Lórien, The Lady of the Galadhrim, or The Lady of the Wood interchangably. Within the realm of Lothlórien, she was referred to as simply Lady Galadriel or The Lady. When she and Celeborn were being referred to collectively, they were known as The Lord and Lady.
She was originally named Artanis ("noble woman") and Nerwen ("man-maiden", referring to her height and strength). Galadriel is the Sindarinized version of Telerin Quenya Alatáriel, the name given her by her lover Celeborn, meaning "maiden crowned with a garland of bright radiance", which referred to her hair. The Elves of Tirion said it captured the radiance of the Two Trees Laurelin and Telperion themselves. It was greatly admired by Fëanor and may have inspired him to create the Silmarils.
The name Galadhriel was used outside Lórien by the people who did not know the ancient days and Galadriel's history, confusing with the Elvish word galadh ("tree") and the name of the Galadhrim, the people of Lórien.