Tauriel
Talk

3
4,608pages on
this wiki
!
Non-Canon Alert!
This article contains information, pictures or media from non-canonical sources. To find out more about what is considered canon see LOTR:Canon
!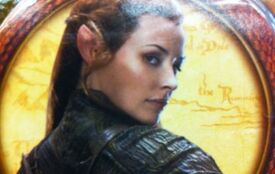 Tauriel, a Silvan Elf of Mirkwood, is a character created for the upcoming films of The Hobbit. She is a warrior and the head of the Elven guard of Mirkwood. She knows how to wield any weapon, but the primary weapons that she uses are a bow and arrow and two daggers. She is described as lethal and deadly. Tauriel has been confirmed to be a high ranking and combat-ready member of Mirkwood's army of Elves.  
Behind the Scenes
Etymology
Edit
Tauriel means 'Woodland daughter' (S. taur [forest, great] + -iell [pat. fem. suffix; daughter]).
External link
Edit