Taniquetil, also known as the Oiolossë and the Holy Mountain,[1] was the highest peak in all of Arda's history.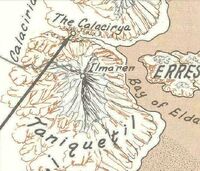 Taniquetil was part of the Pelóri, south of the Calacirya. At the peak of this mountain was the dwelling place of Manwë and Varda, the Ilmarin.[2] It was where they could view all of Arda, even past over Kalórmë and the Gates of Morning.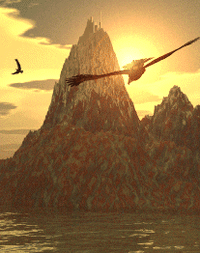 Taniquetil was raised 3,450 Valian Years (or 33,000 solar years) after the Valar arrived in Eä.[citation needed]
After the Lamps of the Valar were destroyed by Melkor in the distant past of the World, the Valar themselves withdrew from Middle-earth into a land on the far western edges of Arda. Along its eastern shoreline, they raised a great mountain range as a defence against the Dark Lord, and the greatest of all those mountains.
On the peak of Taniquetil, Manwë and Varda had their halls of Ilmarin, from which they looked out across the World, and from those halls Manwë sent out his hawks and eagles to watch over Arda.[3] Because the dwellings of the Elder King and his spouse were located on its summit, Taniquetil became known as the Holy Mountain. Due to the reverence of the Vanyar for the mountain, they abandoned their own city of Tirion and settled on the flanks of Taniquetil beneath the halls of Manwë.[4]
Etymology
Edit
In Quenya, Taniquetil means "High-Snow-Peak".[5]
Other names
Edit
References
Edit
↑ 1.0 1.1 1.2 The History of Middle-earth, Vol. 4: The Shaping of Middle-earth, III: "The Quenta"
↑ 2.0 2.1 The History of Middle-earth, Vol. 7: The Treason of Isengard, V: "Bilbo's Song at Rivendell: Errantry and Eärendillinwë"
↑ The History of Middle-earth, Vol. 1: The Book of Lost Tales Part One Part One, I: "The Cottage of Lost Play"
↑ The History of Middle-earth, Vol. 1: The Book of Lost Tales Part One, VI: "The Theft of Melko and the Darkening of Valinor"
↑ 5.0 5.1 The History of Middle-earth, Vol. 11: The War of the Jewels, Part Four: Quendi and Eldar, Appendix D: Kwen, Quenya, and the Elvish (especially Ñoldorin) words for 'Language
↑ Parma Eldalamberon, Words, Phrases and Passages in Various Tongues in The Lord of the Rings by J.R.R. Tolkien
↑ The History of Middle-earth, Vol. 10: Morgoth's Ring, The Later Quenta Silmarillion, The First Phase, "Of Valinor and the Two Trees"
↑ The Lord of the Rings, The Fellowship of the Ring, Book Two, Chapter I: "Many Meetings"
External link
Edit