Talk:Legolas
5,209pages on
this wiki
Hm, could someone expand this article? The one on Wikipedia is atleast twice as long and it feels slightly bad that this one is shorter....Hatake This is quite possible the worst constructed article i have come across in my editing. I cant tell which Legolas we are talking about. Video game/movie/Literary Legolas all have great attributes, and yes, there is some cross over, but when writing the article, the original crafter squashed everything together in a way that is confusing. --Tcrichards 06:32, January 4, 2010 (UTC)
Yeah, I agree with that completely. You would think that the Wikia that is made for LOTR would have more content than the regular Wikipedia. ~Manwathiel
Oblivion mods
Legolas can be made a mod in oblivion. How cool is that!
image removed
Edit
Hi, yeah, I don't like this image, I want it removed and replaced with a still. No offense to the contributer, but animated GIFs are somewhat weird to put on a Wikia. LaeclaROBLOX123 (talk) 01:06, September 16, 2013 (UTC)LaeclaROBLOX123 This image was removed by anon, not sure if it should be added back though: Gimli 02:37, 7 September 2007 (UTC)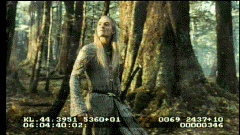 The hobbit?
Edit
Where is Legolas in The Hobbit?Aralan 09:14, 6 December 2008 (UTC)Aralan
He does not appear in The Hobbit (unless the new film decides to add him). Tolkien invented the character while writing the sequel, Lord of the Rings. :) --Tinw 22:27, 30 January 2009 (UTC)
While Tolkien doesn't mention him (not even going as far as to give the Elven-king a name at the time, he was unlikely to start delving into his family tree), Legolas would certainly have been alive at the time though maybe he was else where at the time Thorin and company were captured --yondaime1987 11:25, 21 May 2009

This article states that Legolas cannot pledge to Tauriel because she is a common woodland elf and he is the song of a king. The movie, however, states she is a lowly Silvan Elf and mentions no reasoning that he is the son of a King. Please correct the wording and remove the bit about him being the song of a king
R2D2 Scream
Edit
I noticed that if you watch the movie in the article, one of the men Legolas kills falls off the Mumak and screams a scream I have dubbed the R2D2 scream. This has appeared in every movie made by DreamWorks so far. Anyone with any more information, please share it with me. Pikdude
Are you talking about the Wilhelm Scream? If so than that is a easter egg in alot (and alot) movies. Lucas just made it famousReohelm Andu-aratar 15:15, October 28, 2010 (UTC)Reohelm of Gondor
It is indeed the Wilhelm scream, which is also used when an Elf falls down from the wall in Helms Deep in The Two Towers.Elrantiri (talk) 07:17, April 21, 2013 (UTC)
doesn't make sense
Edit
What on earth is "Elven bow and pair of daggers deadly precision" supposed to mean??? It's the first sentence in the 'weapons' category. Someone please correct?Azaisya (talk) 00:22, April 21, 2013 (UTC)
Thx for whoever fixed it. Azaisya (talk) 23:40, April 26, 2013 (UTC)
Fan art?
Edit
Is the fan art appropriate for this article? I'm not familiar with this wikia's policies, but maybe sticking with canonical stuff may be the best way to go. Brainwasher5 (talk) 16:08, December 16, 2013 (UTC)