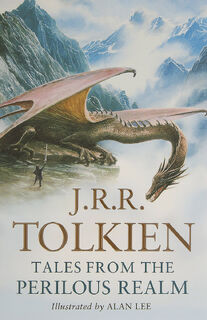 Tales from the Perilous Realm (ISBN 9780547154114) is a compilation, published in 2008, of the lesser-known, "classic fairy tales" of J.R.R. Tolkien. Its only major relation to Middle-earth is The Adventures of Tom Bombadil, which features the character Tom Bombadil from The Lord of the Rings.
The publication contains drawings by Alan Lee.
In November 2017, a full-cast dramatized audio-book of Tales of the Perilous Realm was made and published by BBC Digital Audio, adapted by Brian Sibley.[1]
Translations around the world
Edit
| Foreign Language | Translated name |
| --- | --- |
| Afrikaans | Verhale uit die Gevaarlike Terrein |
| Albanian | Tregime nga Sfera Rrezikshme ? |
| Amharic | ወደ አደገኛ መንፈሳዊው ዓለም ከ ተረቶች |
| Arabic | حكايات من عالم محفوف بالمخاطر |
| Armenian | Հեքիաթներ են վտանգավոր հարթությունում |
| Azerbaijani | Təhlükəli səltənətində olan nağılları |
| Belarusian Cyrillic | Казкі Чароўнай краіны |
| Bengali | বিপজ্জনক অধিরাজ্য থেকে টেলস |
| Bosnian | Priče iz Opasne Carstvo |
| Bulgarian Cyrillic | Приказки от опасната сфера |
| Cambodian | រឿងនិទានពីអាណាចក្រគ្រោះថ្នាក់ |
| Catalan | Contes des del Regne Perillós |
| Cebuano | Sugilanon gikan sa Malisud nga mga gingharian |
| Chinese | 从危险的境界的故事 |
| Croatian | Pripovijesti iz Opasnih Predjela |
| Czech | Příběhy z Nebezpečné Oblasti |
| Danish | Fortællinger fra Farefulde Rige |
| Dutch | Verhalen uit de Gevaarlijke Wereld |
| Esperanto | Fabeloj de la Perilous Sfero |
| Estonian | Ohtlik mängib lugusid ? |
| Filipino | Salaysay mula sa mapanganib na larangan |
| Finnish | Satujen valtakunta |
| French | Contes du Royaume Périlleux |
| Frisian | Ferhalen út 'e Nuodlike Ryk |
| Galician | Contos do Reino Perigoso |
| Georgian | ბნელი სამეფოს ზღაპრები |
| German | Geschichten aus dem gefahrvollen Reich |
| Greek | Ιστορίες από την επικίνδυνη σφαίρα |
| Gujarati | ખતરનાક ક્ષેત્ર માંથી ટેલ્સ |
| Haitian Creole | Istwa soti nan domèn nan danjrez |
| Hebrew | סיפורי מתחום המסוכן |
| Hindi | खतरनाक दायरे से किस्से |
| Hungarian | Mesék a Veszedelmes Birodalmában |
| Icelandic | Sögur frá Hættulegur Ríki |
| Indonesian | Cerita dari Ranah Berbahaya |
| Irish Gaelic | Scéalta ón réimse Contúirteach |
| Italian | Racconti dal Regno Pericolosa |
| Japanese | 危険な世界からの物語 |
| Korean | 위험한 영역의 이야기 |
| Kannada | ಗಂಡಾಂತರದ ಸಾಮ್ರಾಜ್ಯದ ಟೇಲ್ಸ್ |
| Kazakh Cyrillic | Қауіпті патшалығының Ертегілер |
| Kyrgyz Cyrillic | коркунучтуу чөйрөдөгү жомоктору |
| Latin | Regnum fabellam de periculo |
| Latvian | Pasakas no Riskants Valstība |
| Lithuanian | Pasakos iš Pavojingą Sritį |
| Luxembourgish | Märecher vun de geféierlech Kommissioun |
| Macedonian Cyrillic | Приказни од Опасна Свет |
| Malay | Cerita dari Alam Berbahaya |
| Maltese | Denb mill-Saltna Perikoluż Lejn ? |
| Maori | Kōrero i te Felton Ati |
| Marathi | धोक्याचा क्षेत्र गोष्टी ? |
| Mongolian Cyrillic | Аюултай хүрээний аас домог |
| Nepalese | कथा यो खतरनाक प्रभुता देखि ? |
| Norwegian | Historier fra den Farlige Riket |
| Pashto | د مهاجرت د قلمرو څخه کیسې ? |
| Persian | قصه های از قلمرو خطر ناک |
| Polish | Opowieści z Niebezpiecznego Królestwa |
| Portuguese | Contos do Reino Perigosa |
| Punjabi | ਖਤਰਨਾਕ ਖੇਤਰ ਤੱਕ ਕਿੱਸੇ |
| Romanian | Povestiri din Domeniul Primejdioase |
| Russian | Сказки Волшебной страны |
| Samoan | Tala mai le olaga faigata |
| Scottish Gaelic | sgeulachdan bho cunnartach Rìoghachd |
| Serbian | Талес фром тхе опасно Реалм (Cyrillic) Priče iz Opasnim Kraljevstva (Latin) |
| Sesotho | Lipale tse tsoang Sebakeng sa mahlonoko |
| Shona | Ngano kubva Nengozi Nzvimbo |
| Sinhalese | මෙම කථිකයා ප්රචලිතය සිට කතාන්දර |
| Slovak | Príbehy z Nebezpečnej Oblasti |
| Slovenian | Zgodbe iz Nevarno Področje |
| Somalian | Warkii ka boqortooyadayda ku baaqdo |
| Spanish | Cuentos del Reino Peligroso |
| Swahili | Hadithi kutoka Eneo Hatari |
| Swedish | Berättelser från den Farliga Rike |
| Tajik Cyrillic | Афсонаҳои аз олами хатарнок |
| Tamil | அபாய சாம்ராஜ்யத்திற்கு இருந்து கதைகள் |
| Telugu | మహా రాజ్యం నుండి టేల్స్ |
| Thai | เรื่องเล่าจากดินแดนอันตราย |
| Turkish | Tehlikeli Diyardan Öyküler |
| Ukrainian Cyrillic | Казки Чарівної країни |
| Urdu | خطرناک جہانوں سے کہانیاں |
| Uzbek | Хавфли олам олган афсоналарини (Cyrillic) Xavfli olam olgan afsonalarini (Latin) |
| Vietnamese | Cổ tích từ các lĩnh vực nguy hiểm |
| Welsh | Chwedlau o'r Deyrnas Beryglus |
| Yiddish | טאַלעס פון די פּעראַלאַס געביט |
References
Edit