Swords
Talk

0
4,605pages on
this wiki
Redirected from Sword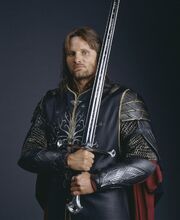 Swords were the main weapons used by all of the armies of both sides in Tolkien Mythology.
In Tolkien Mythology, swords were often famous for who they belonged to or who they slew, Balin mentionned that it was also how they gained their names in the process. They were also symbols of Kingship and family heirlooms.
Swords were probably first made by the
Noldor
Elves
before their expulsion from
Valinor
and by the
Sindarin
Elves of the
Beleriand
in
Middle-earth
. After the start of the
War of the Jewels
, all the races of the
world
forged them for their
battles
with the armies of
Morgoth
. Among the
Elves
, the Noldor were famed for their swords which were often endowed with a substance that made them
Magical
and glowed when enemies like orcs were near. Some swords were
Sapient
to a degree as was the case with
Gurthang
. As described in the
Unfinished Tales
, the
Númenoreans
used a short sword called an
Eket
. The sword was a stabbing weapon.
Isildur
threw all his weapons and armor away except his
eket
when escaping from an
Orc
-ambush at the
Disaster of the Gladden Fields
.
Common Orcs used curved swords (described by Tolkien as Scimitars) while Saruman's Uruk-hai used short broad-bladed ones.
A
G
H
L
Lhang (Elvish two-handed sword)
M
N
O
R
S