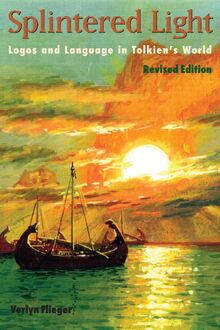 Splintered Light: Logos and Language in Tolkien's World (ISBN 0-8028-1955-9) is a scholarly book written by Verlyn Flieger in 1983 on the world of J.R.R. Tolkien. It focuses on The Silmarillion, on the context The Silmarillion provides for The Lord of the Rings, and on how it illuminates the foundational themes of Tolkien's legendarium. To do these things Flieger utilizes Owen Barfield's linguistic concept of the fragmentation of meaning.
The study's contents are organized mostly in chapters that are themed on two contrary elements, or antitheses.
Splintered Light was first published in hardcover by Wm. B. Eerdmans Publishing Co. (Michigan). In January 2002, it was published again in paperback, revised, by Kent Sate University Press.
Table of contents
Edit
Credits
Acknowledgements
Preface
Introduction
A Man of Antithesis
Catastrophe and Eucatastrophe
Poetic Diction and Splintered Light
A Disease of Mythology
Light Into Darkness
Light Out of Darkness
One Fragment
One Good Custom
Bibliography
Suggested Reading
Index
Ad blocker interference detected!
Wikia is a free-to-use site that makes money from advertising. We have a modified experience for viewers using ad blockers

Wikia is not accessible if you've made further modifications. Remove the custom ad blocker rule(s) and the page will load as expected.