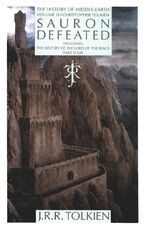 Sauron Defeated (1992) is the ninth volume in the History of Middle-earth series.
It finishes the story, which only takes about 1/3 of the volume. The remainder consists of The Notion Club Papers, and another draft of the Drowning of Anadune.
The inscription in Book IX reads: "In this book is traced first the story of the destruction of the One Ring and the Downfall of Sauron at the End of the Third Age. Then follows an account of the intrusion of the Cataclysm of the West into the deliberations of certain scholars of Oxford and the Fall of Sauron named Zigûr in the Drowning of Anadûne."