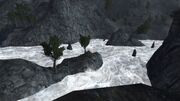 The Sarn Gebir were rapids on the great river Anduin. Located before the Argonath and the falls of Rauros, the Fellowship of the Ring used a portage-way to carry their elven boats past the dangerous stretch of river. According to Boromir, "no boat can live in Sarn Gebir." Just before Sarn Gebir, the Fellowship had an encounter with orc archers and a Nazgûl, whose Fell beast was shot down by Legolas.
References
Edit
External link
Edit
Ad blocker interference detected!
Wikia is a free-to-use site that makes money from advertising. We have a modified experience for viewers using ad blockers

Wikia is not accessible if you've made further modifications. Remove the custom ad blocker rule(s) and the page will load as expected.