River Trolls
Talk

7
4,842pages on
this wiki
!
Non-Canon Alert!
This article contains information, pictures or media from non-canonical sources. To find out more about what is considered canon see LOTR:Canon
!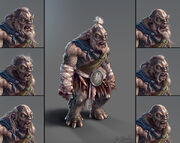 River Trolls are never mentioned in J.R.R Tolkien's writings. The idea that Tolkien wrote about them arose from a misreading of the text in Chapter Ten of The Hobbit. As the dwarves enter Lake Town, the narrative mentions "occasional squabbles about river-tolls" between the men of Lake Town and the nearby elves. In other words, squabbles over whether the elves or the men could collect (or had to pay) tolls for passing down the river. Some readers mistakenly read the word tolls as trolls, thereby imagining entirely new creatures called "River-trolls" that Tolkien never intended.
River Trolls can be found in some fantasy games, Beasts of War and RuneScape, for instance.