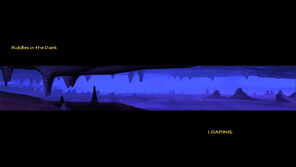 Riddles in the Dark is the sixth level in the 2003 game adaption of The Hobbit.
After the Dwarves get captured, Bilbo finds himself alone in dark mysterious caves. He ventures through the caves and finally discovers a creature named Gollum. Gollum has lost a precious item and looks for it in a frenzy. Bilbo finds the ring and uses it to escape Gollums clutches and requiring a new item that helps him along to be stealthy in his quests.[1]
References
Edit
Ad blocker interference detected!
Wikia is a free-to-use site that makes money from advertising. We have a modified experience for viewers using ad blockers

Wikia is not accessible if you've made further modifications. Remove the custom ad blocker rule(s) and the page will load as expected.