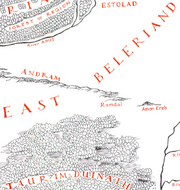 Ramdal was a group of hills in the East Beleriand on the far eastern end of the Andram and west of Amon Ereb.[1]
Etymology
Edit
Ramdal is a Sindarin word that means "wall's end" or "wall's foot".[2] Ram  = wall, dal = foot.[citation needed]
References
Edit
↑ The Atlas of Middle-earth, The First Age, The Elder Days, "Beleriand and the Lands to the North"