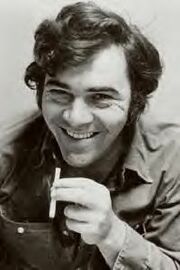 Ralph Bakshi (born October 29, 1938, Haifa, British Mandated Palestine) is a director of animated and occasionally live-action films.
As the American animation industry fell into decline during the 1960s and 1970s, Bakshi tried to bring change to the industry by creating and directing a number of animated feature films that were aimed at adults instead of children. In 1978, he began an ambitious animated adaptation of J. R. R. Tolkien's The Lord of the Rings. This was the first attempt to bring Tolkien's work to the big screen. Bakshi had originally intended his adaptation to be made in three parts, later reduced to two parts after negotiation with the studio. The first part adapted half of the story, or three of the book's six parts (The Lord of the Rings is really one book in six parts but published in three parts, and not a trilogy as is often believed). The second part was to pick up half-way through the story and adapt the remainder of the book.
The project cost $8 million to make and grossed over $30 million at the box office, but was considered a flop by the film's original distributors. They opted to release the unfinished story as a standalone film—dropping "part 1" from its original title—and refused to fund a sequel, leaving Bakshi's vision forever incomplete.
External links
Edit
Ad blocker interference detected!
Wikia is a free-to-use site that makes money from advertising. We have a modified experience for viewers using ad blockers

Wikia is not accessible if you've made further modifications. Remove the custom ad blocker rule(s) and the page will load as expected.