Rabbits
Talk

0
4,608pages on
this wiki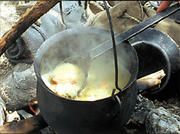 Rabbits were small, fat lagomorpha living everywhere in Middle-earth, called Conies by the Hobbits.
Appearances in films
Edit
In Peter Jackson's movie The Two Towers, a brace of rabbits were caught by Gollum just before a force of Haradrim walked through the land with an Oliphaunt, but then are then cooked by Sam in a stew, which angered Gollum.
In the The Hobbit: An Unexpected Journey, Radagast the Brown's sled is pulled by rabbits from Rhosgobel, called by him Rhosgobel Rabbits, which were fast enough to outrun Wolves from Gundabad.
Alternate Names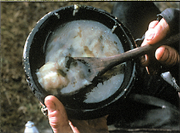 Bunnies, Conies, Hares, "Stew"
External link
Edit