Ad blocker interference detected!
Wikia is a free-to-use site that makes money from advertising. We have a modified experience for viewers using ad blockers

Wikia is not accessible if you've made further modifications. Remove the custom ad blocker rule(s) and the page will load as expected.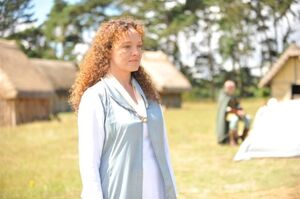 Philippa Hammond is a British character actress. She played Ivorwen in the fan film Born of Hope.
Biography
Edit
Philippa was educated at University of Southampton graduating with BA Honours English Literature and had begun acting at the age ten. Other than her appearance in the Tolkien inspired Born of Hope, she was known for playing in the one woman show Glimpse, Fanny Hill, Anamnesis which was featured at the BAFTA (British Academy of Film and Television Arts), and the short Undone by Judy Upton. She also works in the theatre, radio, and other media.
In addition to acting, she is also involved in the production aspect of film and theatre and is founder and director of Studio 1919 and Studio1919 Productions, and the founder, with Thomas Everchild of Afterthought Theatre Productions both in 1991. She is also an independent teacher of Public Speaking with her own business: Speaking Well In Public. She is also a member of the Chartered Institute of Personnel and Development.
She is currently based in the South East of the UK near London.
Paramour - Julie
Struck By Lightning - Mrs Shelley
Anamnesis - Samantha
Advance Warning - Multiple Characters
Consider Her Ways - Jane The Historian
Matilda - Woman in bedroom
My Brother The Alien - Mrs Johnson
Two Tales Of Tanguy - Wilma
The Purloined Ride - The Lady
Television
Edit
Starstruck - Actress In Rehearsal
Fanny Hill (ITV television & BBC television) - Fanny Hill
The Neverland Singularity - Scientist
The Book and the Rose - Witch/Grumia
Take Six Festival of New Drama - Various characters
High Seas - Pirate Landlady
Baalbek - Performer
Philippa Hammond's Bad Books - Deviser/Performer
Unreliable Romances - Singer/Performer
An Honorary Man - Hypatia
Backstage Whispers - An actress
Little Girls Like To Kiss - Marcia Blouse
Turning The Handle - An Edwardian Lady
Fanny Hill - Fanny Hill
Daisy Pulls It Off - Claire Beaumont
References
Edit
External links
Edit